Efficient Schools Living Lab
The Efficient Schools Living Lab, developed within the Interreg MED Efficient Buildings project and leaded by ADENE - Portuguese Energy Agency, aims at promoting and increasing energy efficiency levels in the public schools of Portugal.
The Efficient Buildings Living Lab will be a hub for the creation of added value and knowledge transfer on energy efficiency in public schools, one of the main targets of the Efficient Buildings Community and one of the hot topics of the next generation of energy policies.
The Efficient Schools Living Lab will develop its activities in Alentejo, a region within the cooperation area of the Interreg MED programme. It will focus on a specific region in the interior of Alentejo, the Portalegre district, which has already been the focus of some Interreg MED Modular Projects where dynamic environments were found and good results achieved.
From the Efficient Buildings Community's pool of instruments, the Portuguese living lab will transfer the tools from two modular projects: PrioritEE and EduFootPrint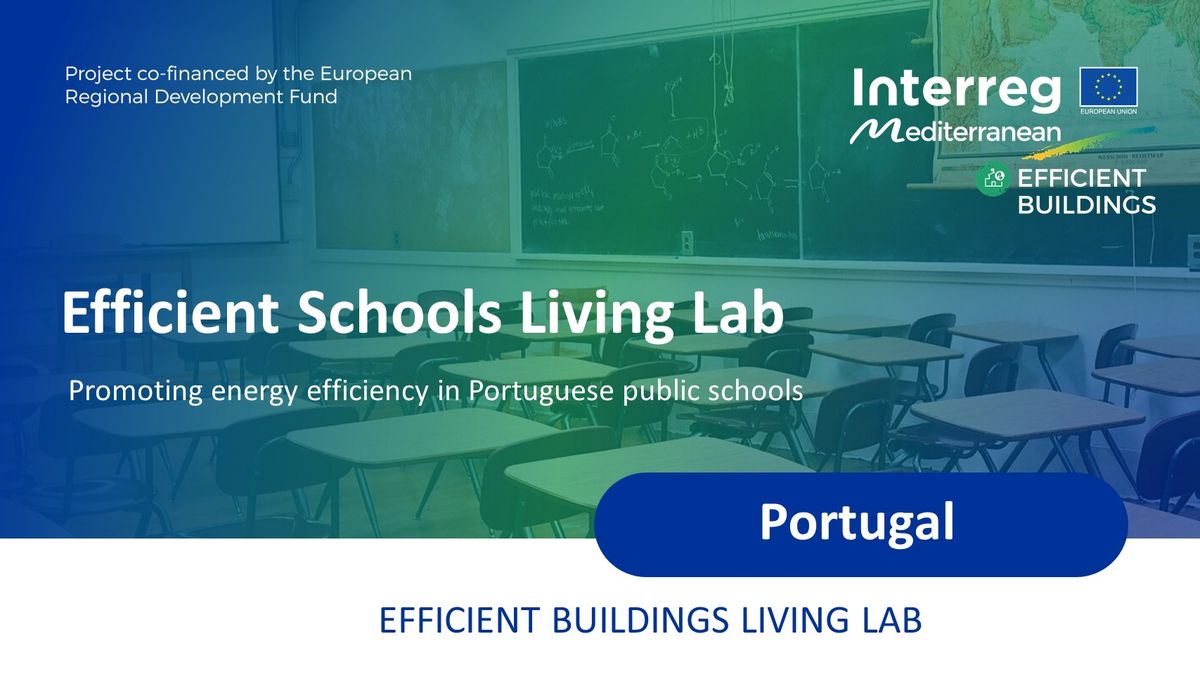 PrioritEE How to Briefs: compilation of information to facilitate energy efficiency and renewable energy deployment on municipal public buildings on several topics: SECAP development, innovative financing, roof-top uses, building envelope, etc.
PrioritEE Decision Support Tool: tool to calculate energy and financial savings in individual public buildings and the whole building stock by applying different energy efficiency measures.
EduFootPrint Guidelines for energy efficiency monitor and management in public buildings: Guidelines to support owners, users, and managers of public schools in the definition of energy action plans and their integration with the local Sustainable Energy and Climate Action Plan.
The Living Lab will also evaluate the usefulness of the TEESCHOOLS Pre-audit web tool, developed within the TEESCHOOLS project, which currently does not include Portuguese background data to allow benchmarking. The tool is an integrated set of instruments supporting energy efficiency management in schools
The Efficient School Living Lab will be organized into several phases:
Educate & Train phase
1 Workshop to educate stakeholders on the existing national energy context such as the National Energy and Climate Action Plan, the Portuguese National Programme for Resources Efficiency in Public Administration, and the National Long-Term Renovation Strategy. The workshop will also attract the interest of stakeholders on energy literacy matters, including climate change, energy efficiency at municipal level, sustainable mobility, and existing financing instruments.
1 Training session to capacitate stakeholders on proven solutions to increase energy efficiency levels, including technical measures and existing supporting tools.
Implement phase
Implementation of transferred solutions on the territory of the stakeholders (e.g. pilot initiatives or, if not possible, tests with false data).
Improve phase
1 Brainstorm workshop with all forum members to discuss implementation results and possible improvements to tested solutions and to identify further territorial needs and conceptualize new solutions.
Disseminate phase
Concerted communication campaign for the dissemination, transfer and replication of the knowledge generated in the Living Lab activities to other regions.