Joint Euro-Mediterranean Workshop
Innovation & Impact: Good practices in energy efficiency for buildings in Mediterranean cities
Online Event | 24 February 2022 | 10:00-13:00
On the 24th of February, the Efficient Buildings Community will co-organize a Joint Euro-Mediterranean Workshop together with the meetMED II project and the newborn SEACAP 4 SDG project.
The workshop is entitled "Innovation & Impact: Good practices in energy efficiency for buildings in Mediterranean cities" and it will be an interactive presentation of the tools and methodologies that can be used by local authorities and agencies to increase the energy performance of their building stocks.
The participants in parallel working groups will explore the needs of the Mediterranean cities and they will analyse more in depth the transferability and concrete application of the solutions proposed at the territorial level.
The first pool of Mediterranean cities interested in reducing public buildings' energy consumption is expected to be identified to support them in adopting and implementing the tools and methodologies into their day-to-day and for further replication and capitalization.
The workshop is open to political representatives and experts from both shores of the Mediterranean basin.
Simultaneous interpretation English/French will be provided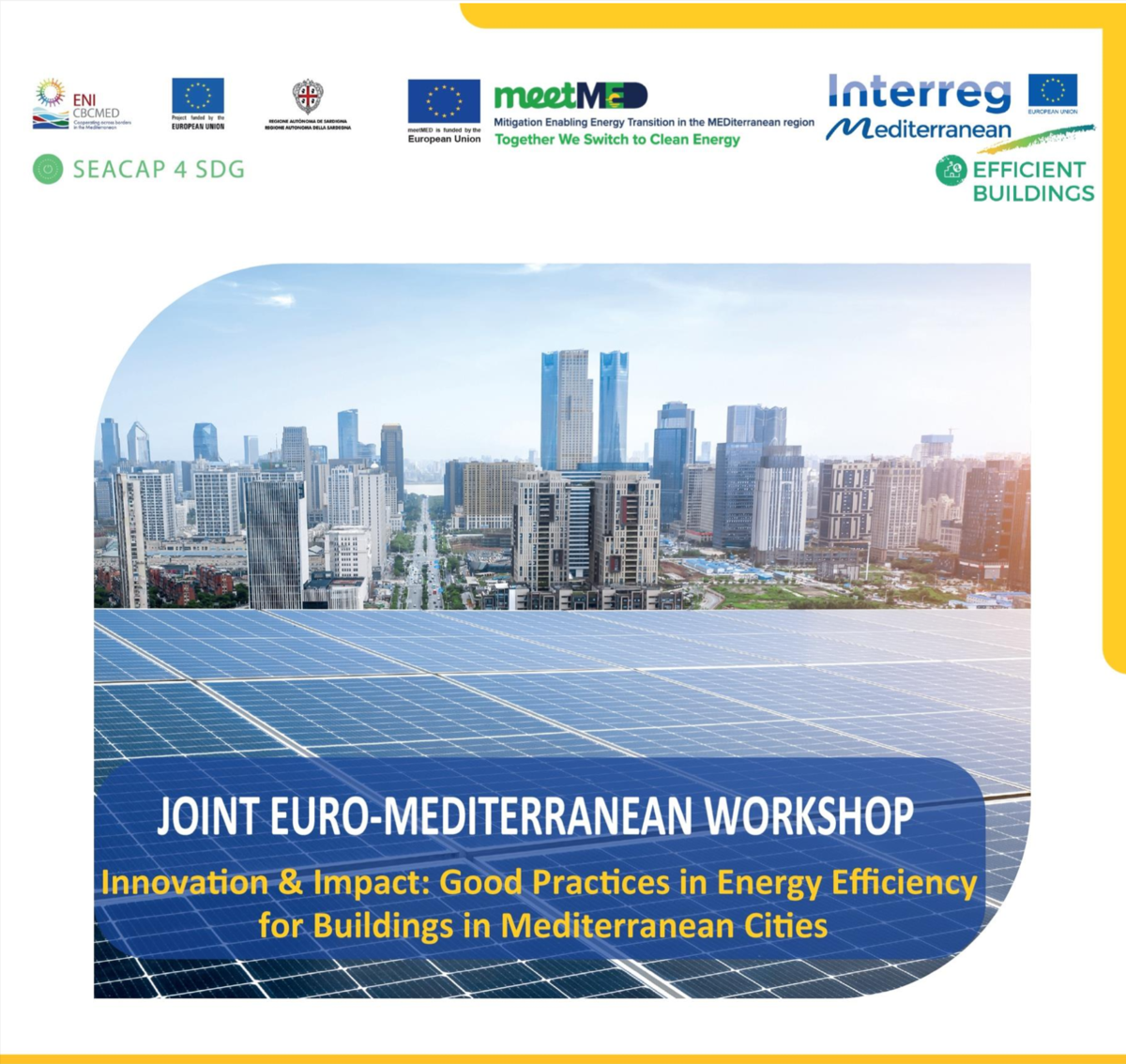 The MED Efficient Buildings Community, established within the Interreg MED programme framework, was created exactly to power up this transformation, specifically in the Mediterranean region. The community brings together local and national public authorities, energy agencies, enterprises and research organizations to exchanges methodologies, experiences and tools and to play a unique and influential role on the European policy stage.
The Community uses a bottom-up approach: it follows ten different projects involving local stakeholders in different European regions and it tries to understand their specific needs for a successful implementation. All lessons learnt from these diverse experiences will be distilled into policy recommendations and the Community will advocate for them in the relevant policy environments. It will be a unique opportunity for the Mediterranean countries' to contribute to the European policy dialogue on energy efficiency in public buildings.
The Mitigation Enabling Energy Transition in the Mediterranean region (meetMED) project is an EU-funded project, developed by the Mediterranean Association of the National Agencies for Energy Management (MEDENER) and the Regional Centre for Renewable Energy and Energy Efficiency (RCREEE).
Following the success of its first phase (MEETMED I, from 2018-2020), meetMED project commences its second phase aiming to enhance the energy security of beneficiary countries (namely Algeria, Egypt, Jordan, Lebanon, Libya, Morocco, Palestine and Tunisia) while fostering their transition to low carbon economy. Accordingly, meetMED II will be contributing to the creation of more stable, efficient, competitive and climate-resilient socioeconomic contexts in the targeted countries.
MeetMED II activities aim at strengthening the implementation of EE measures and improving countries' energy mix focusing on building and appliances' sectors through a multiscale, multi-partner and inclusive approach at local and regional levels, thereby fostering regional cooperation.
Through harmonizing regional efforts and cooperation, the project will be emphasizing upon:
Massive deployment of renewable energy and energy efficiency measures on building and appliances sectors in the Southern Neighborhood region to accelerate clean energy transition;
Public awareness on energy's major stakes and challenges increases, thereby accelerating public and private sectors' involvement towards more energy-efficient buildings and appliances sectors
SEACAP 4 SDG is funded under the capitalization call of ENI CBC Mediterranean Sea Basin Programme 2014-2020 with the aim to promote the adoption of the SE(A)CAP - Sustainable Energy (Access) and Climate Action Plan - in Mediterranean municipalities and eventually reduce public buildings' energy consumption.
SEACAP 4 SDG will capitalize on 10 selected reference projects, by considering their inputs and outcomes, identifying characteristics to be generalized, and by adapting gained knowledge to maximize efficiency and effectiveness of energy refurbishment strategies adapted to local Mediterranean specificities, notably energy poverty.
9 Mediterranean cities will benefit of the demonstrators, capacity building, training and Living Lab developed within the project, aiming at support them in adapting and imple-menting the tools and methodologies into their day-to-day and for further replication and capitalization.
4 specific buildings in the southern cities will host more advanced demonstrators, with an updated customized roadmap, setting out priorities and measures to be implemented.
The project consortium is composed by 9 partners, 5 of them coming from EU countries (France, Italy, Spain and Greece) and 4 coming from Mediterranean partner countries (Egypt, Lebanon, Jordan and Tunisia).